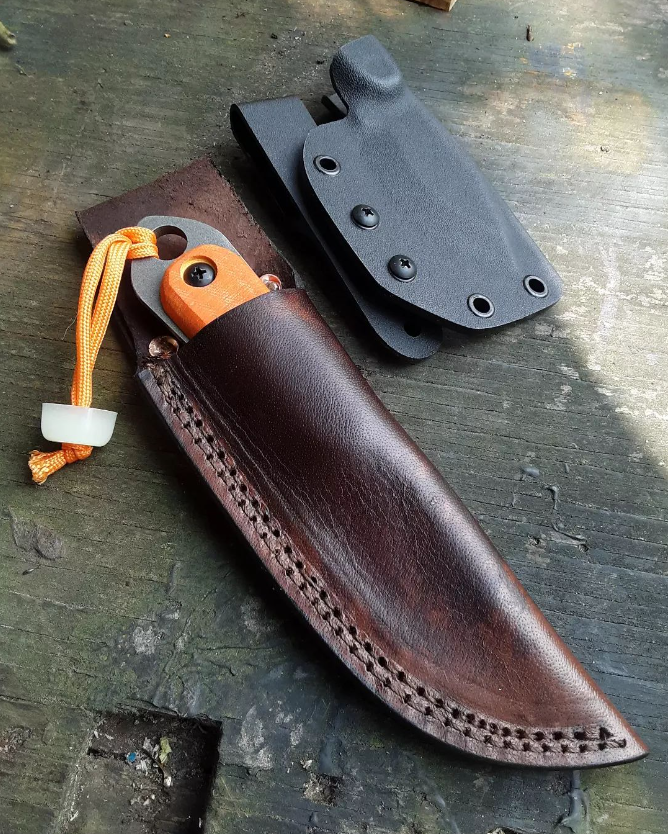 9 Day Pack Essentials For Summer 2023 | THE SHED KNIVES BLOG #31
Welcome back to The S.K. Blog for edition #31. If you're new here, welcome! With summer in full swing, it's time to get outside and experience this warm (and sometimes HOT) weather. Sometimes taking long camping trips takes up too much energy, time and money so a day trip becomes the best option. Having the right gear is essential for a successful and enjoyable experience, so what gear should you bring? In this edition of The Shed Knives Blog, we bring you a comprehensive list of 9 day pack essentials that will ensure you're well-prepared for just about any outdoor adventure this summer.
1. Lightweight Backpack
First things first, invest in a lightweight, durable backpack that fits comfortably on your shoulders. Look for one with multiple compartments and adjustable straps, allowing you to carry all of your essentials without feeling weighed down. Consider the size and capacity based on the duration of your trip and the items you plan to carry. Also, be sure to grab a pack with a waist strap. This will help take some weight off of your shoulders and spread it out to various parts of your body.
Knife featured: 2023 Shed Knives Atlas
2. High-Energy Snacks
Keep your energy levels up with a variety of high-energy snacks such as trail mix, energy bars, and dried fruits. These compact and lightweight snacks provide quick bursts of energy and are small enough that they won't take up a ton of space in your bag. Choose snacks that are rich in protein and carbohydrates to keep you fueled up throughout the day.
3. Sun Protection
The sun is powerful so shield yourself from its harsh rays of the sun by packing essential sun protection items. Don't forget to include sunscreen with a high SPF, a wide-brimmed hat, sunglasses with UV protection, and lightweight, breathable clothing that covers your skin. Sunburn and heatstroke can quickly ruin your outdoor experience, so prioritize your safety and well-being.
Knife featured: 2022 Shed Knives US Tanto
4. Navigation Tools
Ensure you have the necessary tools to navigate your way not just to your destination but back from it as well. A reliable compass, topographic maps, and a GPS device will help you stay on track and avoid getting lost. Familiarize yourself with the area beforehand and plan your route accordingly.
5. First Aid Kit
Accidents happen, even during the most well-planned trips. Be prepared for both minor & major injuries by carrying a first aid kit. Include essentials such as adhesive bandages, antiseptic wipes, painkillers, tweezers, and any medication you may require. When you're away from civilization, don't depend on an immediate response from emergency services.
Knife featured: 2023 Shed Knives Sheepsfoot
6. Fixed Blade Knife
As you know, this is a fixed blade page so obviously you have to carry one - they're extremely functional and can be used by almost any outdoor enthusiast. Fixed blades serve a multitude of purposes, from building shelters to saving lives. Choosing the right knife can be all the difference in how you experience your outing so be sure to pick the right one. Need help? Check out this article here: https://shedknives.com/blogs/theskblog/blog-3
7. Headlamps/Flashlight
Don't let the setting sun limit your adventures. Carry a reliable headlamp or flashlight, along with spare batteries. Flashlights are great for illuminating your way during late evenings or emergencies. Additionally, consider packing a small, lightweight lantern to create a cozy ambiance around your campsite.
8. Hydration Backpack Bladder or Water Bottles
Staying hydrated is crucial, especially during the scorching summer months. Pack a hydration bladder or a couple of reusable water bottles to ensure you have a sufficient water supply throughout your outdoor activities. Opt for insulated bottles to keep your water cool for longer durations. Be aware that water is HEAVY, so if you're going on a +20 mile hike, prepare for the weight.
9. Communication and Emergency Devices
In case of emergencies or when exploring remote areas, it's essential to have reliable communication and emergency devices. Consider carrying a fully charged mobile phone, a portable power bank, a whistle, and a signal mirror. These items can greatly assist in seeking help when needed. Having additional emergency devices like a portable HAM radio can certainly help in a time of need.
Conclusion
As you head out on your summer outings, make sure you have these 9 day pack essentials in your arsenal. By being well-prepared, you can focus on enjoying nature's beauty and the thrill of exploration without worrying about your safety or comfort. Remember, it's crucial to tailor your pack based on the specific activities you'll be engaging in and the environment you'll be exploring. Stay hydrated, protect yourself from the sun, and be equipped to handle unexpected situations. Now, gear up, pack your bags, and get out into the field.
If you like knives, you'll probably like Shed Knives so be sure to check out our 2023 Collection here: https://shedknives.com/collections/2023-models
________________________________________________________________
About The Author:
Jack Billings is the 19 year old CEO and Founder of Shed Knives, a rising manufacturer of high-quality fixed blade bushcraft knives. With over 5 years of experience as a knife maker, he has developed a reputation for crafting durable, reliable knives that are designed for outdoor enthusiasts and bushcrafters alike. Jack started making knives at the age of 13 and has been refining his craft ever since.
In addition to his expertise in knife making, Jack has a High School Degree from POLYTECH High School, where he studied Automotive Technology and obtained his ASE Certification. He is also a content creator for Shed Knives and has reached the eyes of over 600,000 people across the world through his work.
When he's not working on knives, Jack enjoys exploring the outdoors and has a passion for bushcraft. He also has a passion for the automotive world and enjoys learning about new technologies and advancements. Additionally, he has a great interest in language and is studying Spanish, German, and Arabic.
Jack's personal mission is to constantly improve himself, his products, and his processes in order to stay ahead of the rapidly changing interests of the knife industry and to surpass the competition. He takes great pride in American manufacturing and is committed to contributing to the growth of the world knife industry through his work.
S.K. Social Media Links:
➤ Instagram: https://www.instagram.com/shed.knives/
➤ Facebook: https://www.facebook.com/official.shed.knives/
➤ Twitter: https://twitter.com/shed_knives
➤ Pinterest: https://www.pinterest.com/shedknives/
➤ YouTube: https://www.youtube.com/@shedknives
➤ Rumble: https://rumble.com/c/c-2051230
➤ LinkedIn: https://www.linkedin.com/company/shed-knives/
➤ Telegram: https://t.me/shedknives
➤ The S.K. Blog: https://shedknives.com/blogs/theskblog
➤ Threads: https://threads.net/@shed.knives