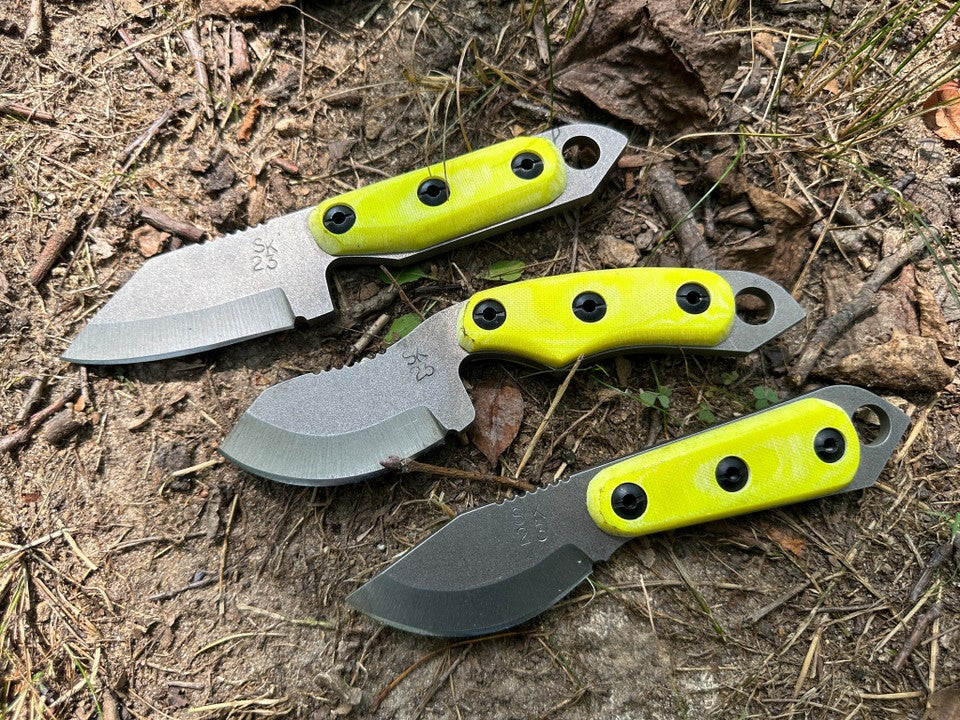 10 Must-Have Outdoor Items for Fall 2023 | THE SHED KNIVES BLOG #44
Welcome back to The S.K. Blog for edition #44. If you're new here, welcome! As the vibrant hues of summer give way to the crisp and colorful landscapes of fall, outdoor enthusiasts are presented with a whole new realm of adventure possibilities. Whether you're a knife enthusiast, seasoned hiker, nature photographer, or simply someone who enjoys spending time in the outdoors, having the right gear can elevate your outdoor experiences to the next level. In this blog, I've curated a list of 10 essential outdoor items that you need to make the most out of Fall 2023.
1. Insulated Jacket
The fluctuating temperatures of fall demand a versatile jacket that keeps you warm without sacrificing mobility. Look for an insulated jacket with adjustable features to adapt to changing weather conditions.
2. Waterproof Hiking Boots
Rain and muddy trails are synonymous with fall. Invest in a pair of waterproof hiking boots to keep your feet dry and comfortable during your outdoor excursions.
3. Light-Weight Back Pack
Whether you're going to local trails or venturing out of state, having a light-weight backpack can make a positive difference in your adventure. Be sure to look for a pack with not just comfortable shoulder straps, but a strong waist strap as well.
4. Portable Coffee Press
Embrace the chilly mornings with a steaming cup of coffee. A portable coffee press lets you enjoy your favorite brew while soaking in the beauty of the autumn landscape. If coffee isn't your thing, don't be afraid to bring a Jet Boil for some hot tea.
5. Multi-Functional Headlamp
If all you have is a standard flashlight, that will work too.
With the days getting shorter, a reliable headlamp becomes an indispensable tool for extending your outdoor adventures into the evening hours. Be sure to pack extra batteries for your headlamp since some headlamps consume batteries faster than others.
6. Fixed Blade Knife
Take your nature exploration to the next level with a high quality Fixed Blade from Shed Knives. If you plan on going into the outdoors, you need to be prepared for the worst. Having a strong, 100% USA made, high quality, Fixed Blade is absolutely essential. Check them out here: https://shedknives.com/collections/2023-models
7. Compact Binoculars
Whether you're birdwatching or simply enjoying distant views, compact binoculars bring the world closer and help you appreciate the finer details of nature. It's a simple detail most outdoorsmen forget but it can add to the great experiences you'll have outdoors.
8. Wind-Resistant Rain Jacket
A wind-resistant rain jacket provides an extra layer of protection against gusty winds and unexpected rain showers, allowing you to stay comfortable in all conditions.
9. Backpacker's Thermos
Keep your soups, stews, and hot beverages warm during your outdoor ventures with a durable and well-insulated thermos designed for backpackers. You can carry your grandfather's Thermos but they tend to be heavy enough without anything inside.
10. Fall Rated Tent
For you camping enthusiasts, having a tent, specifically a fall rated tent will bring your camping experiences to the next level. Having a tent designed for the fall (look on the bag, it will say summer/fall or fall/winter) will keep you warm during those cooler nights but also cool during the peak temps of the day. 
Conclusion
Fall 2023 is looking like a season of natural beauty and outdoor discovery. With these 10 essential outdoor items, you'll be well-prepared to embrace the outdoors of the autumn season while staying comfortable and safe. 
To explore a wide range of high-quality knives, including the entire 2023 Collection mentioned in this article, visit the Shed Knives website HERE. Thank you for reading and stay tuned for the next edition of The Shed Knives Blog.
________________________________________________________________
About The Author:
Jack Billings is the 19 year old CEO and Founder of Shed Knives, a rising manufacturer of high-quality fixed blade bushcraft knives. With over 5 years of experience as a knife maker, he has developed a reputation for crafting durable, reliable knives that are designed for outdoor enthusiasts and bushcrafters alike. Jack started making knives at the age of 13 and has been refining his craft ever since.
In addition to his expertise in knife making, Jack has a High School Degree from POLYTECH High School, where he studied Automotive Technology and obtained his ASE Certification. He is also a content creator for Shed Knives and has reached the eyes of over 600,000 people across the world through his work.
When he's not working on knives, Jack enjoys exploring the outdoors and has a passion for bushcraft. He also has a passion for the automotive world and enjoys learning about new technologies and advancements. Additionally, he has a great interest in language and is studying Spanish, German, and Arabic.
Jack's personal mission is to constantly improve himself, his products, and his processes in order to stay ahead of the rapidly changing interests of the knife industry and to surpass the competition. He takes great pride in American manufacturing and is committed to contributing to the growth of the world knife industry through his work.
S.K. Social Media Links:
➤ Instagram: https://www.instagram.com/shed.knives/
➤ Facebook: https://www.facebook.com/official.shed.knives/
➤ Twitter: https://twitter.com/shed_knives
➤ Pinterest: https://www.pinterest.com/shedknives/
➤ YouTube: https://www.youtube.com/@shedknives
➤ Rumble: https://rumble.com/c/c-2051230
➤ LinkedIn: https://www.linkedin.com/company/shed-knives/
➤ Telegram: https://t.me/shedknives
➤ The S.K. Blog: https://shedknives.com/blogs/theskblog
➤ Threads: https://threads.net/@shed.knives