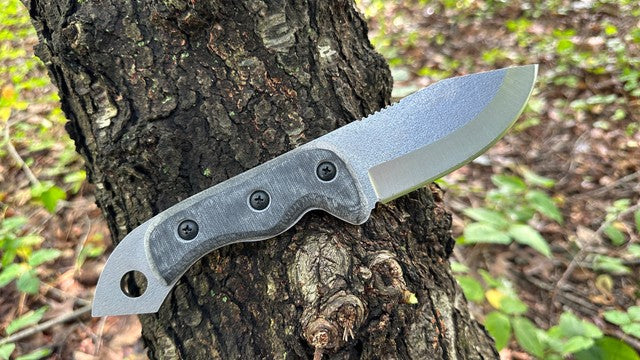 Prepared For Anything: The Perfect Knife For Preppers & Homesteaders (2023 Tuatara) | THE SHED KNIVES BLOG #52
Welcome back to The S.K. Blog for edition #52. If you're new here, welcome! In the world of wilderness survival and outdoor adventuring, having the right tools can mean the difference between a smooth journey and a challenging one. Among these essential tools, a reliable knife is at the top of the list. Shed Knives, known for their top-notch craftsmanship, introduces the 2023 Tuatara, a versatile and durable fixed-blade knife designed to handle the toughest of tasks. Inspired by the rugged tuatara, a unique lizard-like reptile native to the islands of New Zealand, this knife is poised to become an indispensable companion for preppers, homesteaders, and outdoor enthusiasts.
The Tuatara: A Knife with Purpose
The Tuatara knife line initially launched in 2022 and became the number one knife sold in the 2022 collection. For 2023, the Tuatara has returned with several improvements. Designed to be a camp knife that can do it all, it's not limited to just one task but excels in a variety of outdoor applications. Here's just a few reasons why the Tuatara stands out:
Versatile Blade Design: The Tuatara features a slanted tip, which combines strength with sharpness. This design allows it to handle a wide range of tasks, from skinning game to building shelters and cutting rope, making it a valuable addition to any outdoor enthusiast's toolkit.

Enhanced Control: With a slightly larger handle compared to other models, such as the Sheepsfoot, the Tuatara offers improved control during tough tasks. This is especially important when precision and stability are required in the field or on the homestead.
The Handle: Customizable and Functional
The Tuatara's handle is as versatile as the blade, designed for easy customization and practicality. Here are some key features:
G-10 Handle Material: The G-10 handles can be removed or replaced using either a flat or Phillips bit screwdriver, allowing users to personalize their knife. This feature ensures a comfortable grip that suits your preferences.

Secure Attachment: The three screws used to secure the handle can also be employed with the Kydex sheath to connect the clip, ensuring your knife stays firmly in place.

Sturdy Design: In cases where the middle screw is not needed, the G-10 handle can maintain a secure attachment on its own.
If you lose a screw on your sheath, you can pull out the center screw from the G-10 scales since all of the 5 screws on the knife/sheath are identical.
The Sheath: A Safe and Practical Companion
All 2023 Tuataras come equipped with a black Kydex sheath that offers several advantages:
Secure Fit: The Kydex sheath provides a secure, audible click when the knife is inserted, eliminating concerns about your knife slipping or falling out which is a common issue with leather and nylon sheaths.

Easy Maintenance: Kydex can be easily cleaned with soap and water, ensuring your sheath remains in top condition. It's also resistant to wear and tear, making it a long-lasting choice.

Moisture Management: Before reinserting your knife, it's crucial to completely dry the inside of the sheath with compressed air to prevent any moisture buildup. Thanks to the material, Kydex, moisture can easily be removed from the sheath.
Additional Features for Enhanced Utility
The 2023 Tuatara comes with several additional features that enhance its utility and user experience:
Jimping: The spine of the knife features jimping, providing a secure grip and better control during use.

Sharpening Choil: This feature separates the blade from the handle with a clear and defined gap, aiding in easy and thorough blade sharpening.

Lanyard Hole: A half-inch lanyard hole allows users to attach the knife to various gear and equipment, providing easy access and preventing accidental loss.
Specifications:
Brand: Shed Knives
Model: Tuatara
Manufactured In: Delaware, United States
Overall Length: 10"
Blade Length: 4.25"
Blade Width: 0.5"
Blade Material: 154-CM
Handle Length: 4.5"
Handle Width: 1 - 1.875"
Handle Material: G-10
Handle Color Options: Skur Orange, Day Glow, Tiffany Blue, Coyote Tan, OD Green, Midnight Black
Blade Finish: Stone Wash
Steel Hardness: 58 - 60 RHC
Blade Grind: Hollow
Spine Thickness: 3/16"
Lanyard Hole: 0.5"
Sheath Included: Yes
Sheath Material: Kydex
Sheath Color: Black
Conclusion:
For preppers, homesteaders, knife users, and outdoor enthusiasts, the 2023 Tuatara from Shed Knives represents the perfect combination of functionality, versatility, and durability. Inspired by the tenacious tuatara, this knife is ready to tackle any challenge the wilderness presents. With its customizable handle, secure Kydex sheath, and practical features, the Tuatara is a reliable companion for those who are prepared for anything in the great outdoors. Don't miss out on the opportunity to add this exceptional tool to your arsenal, ensuring you're equipped for all your adventures in 2023 and beyond.
Grab your 2023 Shed Knives Tuatara here.
To explore a wide range of high-quality knives, including the entire 2023 Collection mentioned in this article, visit the Shed Knives website HERE. Thank you for reading and stay tuned for the next edition of The Shed Knives Blog.
________________________________________________________________
About The Author:
Jack Billings is the 19 year old CEO and Founder of Shed Knives, a rising manufacturer of high-quality fixed blade bushcraft knives. With over 5 years of experience as a knife maker, he has developed a reputation for crafting durable, reliable knives that are designed for outdoor enthusiasts and bushcrafters alike. Jack started making knives at the age of 13 and has been refining his craft ever since.
In addition to his expertise in knife making, Jack has a High School Degree from POLYTECH High School, where he studied Automotive Technology and obtained his ASE Certification. He is also a content creator for Shed Knives and has reached the eyes of over 600,000 people across the world through his work.
When he's not working on knives, Jack enjoys exploring the outdoors and has a passion for bushcraft. He also has a passion for the automotive world and enjoys learning about new technologies and advancements. Additionally, he has a great interest in language and is studying Spanish, German, and Arabic.
Jack's personal mission is to constantly improve himself, his products, and his processes in order to stay ahead of the rapidly changing interests of the knife industry and to surpass the competition. He takes great pride in American manufacturing and is committed to contributing to the growth of the world knife industry through his work.
S.K. Social Media Links:
➤ Instagram: https://www.instagram.com/shed.knives/
➤ Facebook: https://www.facebook.com/official.shed.knives/
➤ Twitter: https://twitter.com/shed_knives
➤ Pinterest: https://www.pinterest.com/shedknives/
➤ YouTube: https://www.youtube.com/@shedknives
➤ Rumble: https://rumble.com/c/c-2051230
➤ LinkedIn: https://www.linkedin.com/company/shed-knives/
➤ Telegram: https://t.me/shedknives
➤ The S.K. Blog: https://shedknives.com/blogs/theskblog
➤ Threads: https://threads.net/@shed.knives