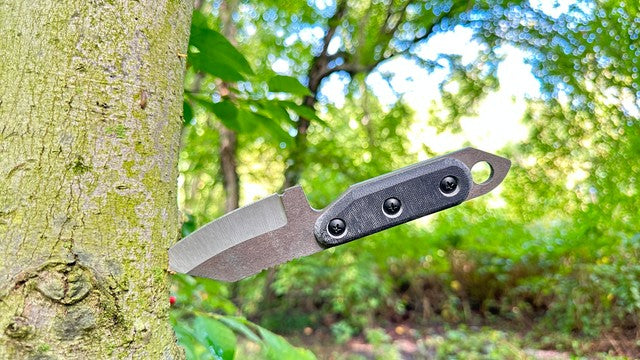 8 Things I Carry In My Day Pack YOU NEED | THE SHED KNIVES BLOG #54
Welcome back to The S.K. Blog for edition #54. If you're new here, welcome! Venturing into the great outdoors, whether for a hike, camping trip, or even an unexpected survival situation, requires careful preparation. One of the key aspects of preparation is packing the right gear. In this guide, we'll explore the essential items you should carry in your backpack. These eight items are not just handy; they're indispensable for your safety, comfort, and preparedness.
1. Backpack
The foundation of any outdoor adventure is a reliable backpack. Choose one that suits your needs in terms of capacity, comfort, and organization. A well-fitted backpack will ensure you can carry all your essentials comfortably.
2. First Aid Kit
Safety always comes first. A comprehensive first aid kit should include bandages, antiseptic wipes, adhesive tape, pain relievers, tweezers, and any personal medications you may require. Be prepared to address minor injuries and discomfort on the go.
3. Fixed Blade Knife
Knife Featured: 2023 Shed Knives US Tanto
A sturdy fixed blade knife is a versatile tool with countless applications. From food preparation to shelter building and self-defense, a reliable knife is a must-have in your pack. Choose a knife that suits your intended use, and don't forget to sharpen it before heading out.
4. Duct Tape
Knife Featured: 2023 Shed Knives Sheepsfoot
Duct tape is the ultimate multi-purpose repair tool. It can patch up gear, secure a makeshift shelter, and even serve as an emergency bandage...as I used during an injury featured in the photo above. Carry a small roll wrapped around a pencil or water bottle to save space. Thankfully, I was able to grab 2 pieces of tape and form an X across my knee which is where I cut myself with the 2023 Sheepsfoot. Be careful - Shed Knives are SHARP!
PRO TIP: Never put tape directly on a wound if you can help it. 
5. 550 Cord
Knife Featured: 2023 Shed Knives Skur
Also known as paracord, 550 cord is incredibly strong and useful in a variety of situations. It can be used for setting up a shelter, creating makeshift straps, securing gear, and more. A compact bundle of 550 cord is a valuable addition to your pack.
6. Water Bottle/Snacks
Staying hydrated and fueled is crucial for your outdoor adventure. Carry a refillable water bottle to reduce waste and a selection of high-energy snacks like trail mix, energy bars, and jerky. These items can keep you going when you need that extra boost on the trail.
7. Whistle
A whistle is a simple yet effective signaling device. In emergency situations, it can help you communicate your location to rescuers. Look for a whistle with a built-in compass for added functionality.
8. Flashlight
Daylight doesn't last forever, and you may find yourself navigating in the dark. A compact flashlight with fresh batteries is essential. It can help you find your way, signal for help, and inspect your surroundings at night.
Conclusion
Packing the right gear is a fundamental aspect of any outdoor adventure. These eight items, from a reliable backpack to a trusty fixed blade knife, can make a significant difference in your safety, comfort, and preparedness. Before embarking on your next adventure, ensure your pack is equipped with these essentials, and you'll be ready to face whatever challenges the wilderness presents. Remember, preparation is the key to a successful and enjoyable outdoor experience.
To explore a wide range of high-quality knives, including the entire 2023 Collection mentioned in this article, visit the Shed Knives website HERE. Thank you for reading and stay tuned for the next edition of The Shed Knives Blog.
________________________________________________________________
About The Author:
Jack Billings is the 19 year old CEO and Founder of Shed Knives, a rising manufacturer of high-quality fixed blade bushcraft knives. With over 5 years of experience as a knife maker, he has developed a reputation for crafting durable, reliable knives that are designed for outdoor enthusiasts and bushcrafters alike. Jack started making knives at the age of 13 and has been refining his craft ever since.
In addition to his expertise in knife making, Jack has a High School Degree from POLYTECH High School, where he studied Automotive Technology and obtained his ASE Certification. He is also a content creator for Shed Knives and has reached the eyes of over 600,000 people across the world through his work.
When he's not working on knives, Jack enjoys exploring the outdoors and has a passion for bushcraft. He also has a passion for the automotive world and enjoys learning about new technologies and advancements. Additionally, he has a great interest in language and is studying Spanish, German, and Arabic.
Jack's personal mission is to constantly improve himself, his products, and his processes in order to stay ahead of the rapidly changing interests of the knife industry and to surpass the competition. He takes great pride in American manufacturing and is committed to contributing to the growth of the world knife industry through his work.
S.K. Social Media Links:
➤ Instagram: https://www.instagram.com/shed.knives/
➤ Facebook: https://www.facebook.com/official.shed.knives/
➤ Twitter: https://twitter.com/shed_knives
➤ Pinterest: https://www.pinterest.com/shedknives/
➤ YouTube: https://www.youtube.com/@shedknives
➤ Rumble: https://rumble.com/c/c-2051230
➤ LinkedIn: https://www.linkedin.com/company/shed-knives/
➤ Telegram: https://t.me/shedknives
➤ The S.K. Blog: https://shedknives.com/blogs/theskblog
➤ Threads: https://threads.net/@shed.knives