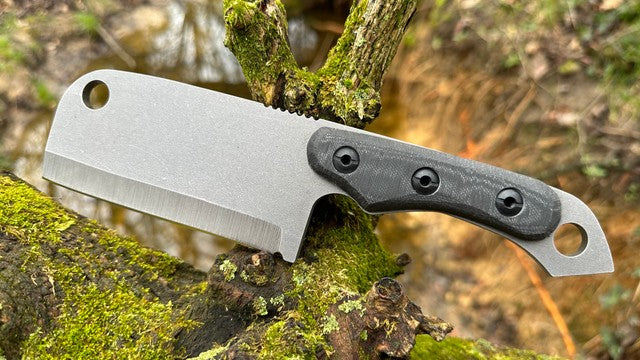 The First EVER Cleaver by Shed Knives: The 2023 Atlas | THE SHED KNIVES BLOG #22
Welcome to another exciting edition of The Shed Knives Blog, where we bring you the best skills and information in the outdoors world. In this edition, we are thrilled to introduce the 2023 Shed Knives Atlas, Shed Knives' very first cleaver, to The S.K. Blog. Crafted with precision and designed for functionality, the Atlas is a tool built to conquer any chopping or hard use task you throw at it.
As the name suggests, the Atlas represents a guide, much like an atlas is a book of maps or charts. Just as an atlas helps you navigate and find your way, the 2023 Atlas carves the path, providing you with the perfect tool for your outdoor adventures, culinary explorations, and more.
One of the standout features of the Atlas is its impressive size. With a total length of 9.375 inches, this beast can withstand the hardest challenges and environments thanks to the 154-CM steel used in its construction. This high-quality steel ensures excellent edge retention and durability, making the Atlas a reliable companion for years to come.
Let's take a closer look at some of the key features of the 2023 Atlas. The handle of this cleaver is made of G-10, renowned for its durability and resistance to wear and tear. Shed Knives has designed the handle to be easily replaceable or removable, allowing you to customize your knife to suit your preferences. Whether you prefer a flat or Phillips bit screwdriver, you can effortlessly remove and replace the handle as needed. The G-10 handle can even stay firmly attached without the middle screw if necessary, ensuring a secure grip during intense chopping tasks.
Every 2023 Atlas comes with a stunning black Kydex sheath. This sheath offers several advantages over other materials such as leather or nylon. It securely holds the knife in place with a satisfying click, eliminating concerns about the knife cutting through or falling out of the sheath. Additionally, Kydex is easy to clean with soap and water, ensuring your sheath stays in pristine condition. 
Learn how to maintain your sheath here: https://shedknives.com/blogs/theskblog/blog-15
The 2023 Atlas boasts some notable additional features that enhance its usability and performance. Jimping on the spine of the knife provides an added level of grip, allowing you to maintain control and precision during your chopping tasks. The sharpening choil, a clear and defined gap between the blade and handle, facilitates easy sharpening and ensures you can fully sharpen the blade all the way to the heel. Furthermore, the half-inch lanyard hole offers versatility, enabling you to attach the knife to ropes, lines, D-rings, and various gear, making it a practical tool for outdoor activities.
Now let's delve into the specifications of the 2023 Atlas. This remarkable cleaver is proudly manufactured in Delaware, United States, under Shed Knives' high quality standards. The overall length of the Atlas measures 9.5 inches, with a blade length of 4.25 inches and a blade grind height of 0.5 inches. The blade material is made from high-quality 154-CM steel, and like I mentioned, 154-CM is renowned for its excellent edge retention and corrosion resistance. The hollow blade grind ensures optimal slicing and chopping performance. With a spine thickness slightly thicker than 3/16", the Atlas strikes the perfect balance between strength and weight.
When it comes to customization, Shed Knives offers a range of handle color options for the 2023 Atlas. You can choose from vibrant choices like Skur Orange, Day Glow, Tiffany Blue, or more traditional options like Coyote Tan, OD Green, and Midnight Black. This allows you to personalize your Atlas and make it truly your own.
In conclusion, the 2023 Shed Knives Atlas is a groundbreaking addition to our 2023 collection, marking our first venture into the world of cleavers. With its exceptional design and superior craftsmanship, the Atlas is a reliable and powerful tool that will accompany you on your chopping and hard use tasks with ease. Thank you for reading and be sure to stay tuned for more exciting updates and knife information on The Shed Knives Blog. 
If you liked this blog, you'll probably like the Atlas so be sure to check out the 2023 Shed Knives Atlas here: shedknives.com/products/2023-atlas
________________________________________________________________
About The Author:
Jack Billings is the 19 year old CEO and Founder of Shed Knives, a rising manufacturer of high-quality fixed blade bushcraft knives. With over 5 years of experience as a knife maker, he has developed a reputation for crafting durable, reliable knives that are designed for outdoor enthusiasts and bushcrafters alike. Jack started making knives at the age of 13 and has been refining his craft ever since.
In addition to his expertise in knife making, Jack has a High School Degree from POLYTECH High School, where he studied Automotive Technology and obtained his ASE Certification. He is also a content creator for Shed Knives and has reached the eyes of over 600,000 people across the world through his work.
When he's not working on knives, Jack enjoys exploring the outdoors and has a passion for bushcraft. He also has a passion for the automotive world and enjoys learning about new technologies and advancements. Additionally, he has a great interest in language and is studying Spanish, German, and Arabic.
Jack's personal mission is to constantly improve himself, his products, and his processes in order to stay ahead of the rapidly changing interests of the knife industry and to surpass the competition. He takes great pride in American manufacturing and is committed to contributing to the growth of the world knife industry through his work.
S.K. Social Media Links:
➤ Instagram: https://www.instagram.com/shed.knives/
➤ Facebook: https://www.facebook.com/official.shed.knives/
➤ Twitter: https://twitter.com/shed_knives
➤ Pinterest: https://www.pinterest.com/shedknives/
➤ YouTube: https://www.youtube.com/@shedknives
➤ Rumble: https://rumble.com/c/c-2051230
➤ LinkedIn: https://www.linkedin.com/company/shed-knives/
➤ Telegram: https://t.me/shedknives
➤ The S.K. Blog: https://shedknives.com/blogs/theskblog