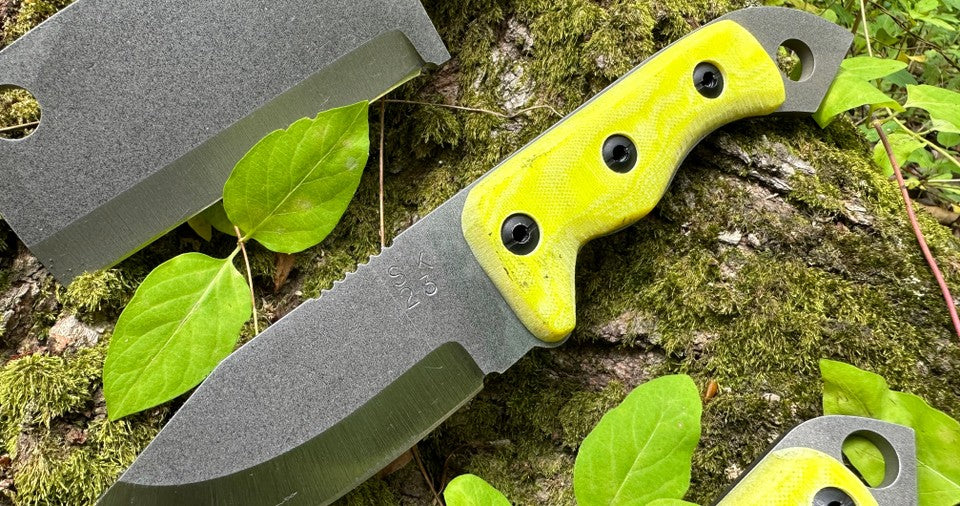 The 2023 Tuatara: Is THIS The Next Best Fixed Blade? | THE SHED KNIVES BLOG #24
Welcome back to The Shed Knives Blog! In this edition, we're thrilled to bring you an in-depth look at the highly anticipated 2023 Shed Knives Tuatara. With its impressive design and versatile features, the Tuatara aims to outshine its predecessor and become the next best fixed blade in the market. Featured on Beez Blades and a favorite among outdoor enthusiasts, this knife promises durability, functionality, and style. Join us as we explore the key aspects that make the 2023 Tuatara a worthy addition to your wilderness survival gear and a must-have tool for all of your outdoor adventures.
Design and Functionality
The Tuatara has gained a reputation as an exceptional camp knife, capable of handling tough tasks and excelling in a variety of outdoor scenarios. Its slanted tip provides a strong yet sharp point, ideal for tasks such as skinning game, building shelters, and cutting rope. The slightly larger handle compared to the 2023 Sheepsfoot enhances control during challenging tasks, ensuring a secure and comfortable grip even in demanding conditions.
One notable feature of the Tuatara is its replaceable/removable G-10 handle. With the use of a flat or Phillips bit screwdriver, the three screws can be easily removed, allowing for customization and handle replacement. Additionally, the screws can be used to attach the clip to the Kydex sheath, providing versatility in carrying options. The G-10 handle is designed to stay firmly attached, even without the middle screw if necessary.
Kydex Sheath and Additional Features
The Tuatara comes with a durable black Kydex sheath, offering several advantages over traditional leather and nylon sheaths. The Kydex material securely holds the knife in place, eliminating concerns of accidental cuts or the knife falling out. Its easy-to-clean properties make it a practical choice for outdoor adventures—simply wash it with soap and water, ensuring the inside is thoroughly dried with compressed air before reinserting the knife.
The Tuatara boasts additional features that enhance its functionality and user experience. Jimping on the spine of the knife provides added grip and control, ensuring a secure hold in any situation. The sharpening choil, with its distinct gap between the blade and handle, enables precise and complete blade sharpening, extending the life of the knife. Furthermore, the half-inch lanyard hole allows for versatile attachment options, making it easy to secure the Tuatara to various gear and equipment.
Specifications and Options
The Shed Knives Tuatara is proudly manufactured in Delaware, United States, the home of Shed Knives since 2018. With an overall length of 10 inches and a blade length of 4.25 inches, the Tuatara strikes a balance between versatility and maneuverability. The 154-CM blade offers excellent edge retention and corrosion resistance, ensuring long-lasting performance.
The G-10 handle is available in a range of vibrant color options including Skur Orange, Day Glow, Tiffany Blue, Coyote Tan, OD Green, and Midnight Black. The handle measures 4.5 inches in length and 1 to 1.875 inches in width. The stone wash blade finish adds a touch of sophistication, while the hollow blade grind strikes the perfect balance between sharpness and durability.
Conclusion
The 2023 Shed Knives Tuatara embodies the brand's commitment to providing outdoor enthusiasts with a reliable and versatile fixed blade knife. From its sturdy construction to its customizable handle and convenient Kydex sheath, the Tuatara leaves no stone unturned when it comes to functionality and user experience. Whether you're embarking on a wilderness adventure, camping in the great outdoors, or simply looking for a reliable tool for everyday tasks, the Tuatara proves to be a worthy companion. With its impressive specifications, durability, and attention to detail, the 2023 Tuatara might just be the next best fixed blade knife to add to your collection. Shed Knives continues to deliver quality and innovation, and the Tuatara stands as a testament to their dedication to producing top-notch outdoor gear. So gear up, embrace the wild, and let the Tuatara be your trusted partner on your next adventure.
________________________________________________________________
About The Author:
Jack Billings is the 19 year old CEO and Founder of Shed Knives, a rising manufacturer of high-quality fixed blade bushcraft knives. With over 5 years of experience as a knife maker, he has developed a reputation for crafting durable, reliable knives that are designed for outdoor enthusiasts and bushcrafters alike. Jack started making knives at the age of 13 and has been refining his craft ever since.
In addition to his expertise in knife making, Jack has a High School Degree from POLYTECH High School, where he studied Automotive Technology and obtained his ASE Certification. He is also a content creator for Shed Knives and has reached the eyes of over 600,000 people across the world through his work.
When he's not working on knives, Jack enjoys exploring the outdoors and has a passion for bushcraft. He also has a passion for the automotive world and enjoys learning about new technologies and advancements. Additionally, he has a great interest in language and is studying Spanish, German, and Arabic.
Jack's personal mission is to constantly improve himself, his products, and his processes in order to stay ahead of the rapidly changing interests of the knife industry and to surpass the competition. He takes great pride in American manufacturing and is committed to contributing to the growth of the world knife industry through his work.
S.K. Social Media Links:
➤ Instagram: https://www.instagram.com/shed.knives/
➤ Facebook: https://www.facebook.com/official.shed.knives/
➤ Twitter: https://twitter.com/shed_knives
➤ Pinterest: https://www.pinterest.com/shedknives/
➤ YouTube: https://www.youtube.com/@shedknives
➤ Rumble: https://rumble.com/c/c-2051230
➤ LinkedIn: https://www.linkedin.com/company/shed-knives/
➤ Telegram: https://t.me/shedknives
➤ The S.K. Blog: https://shedknives.com/blogs/theskblog