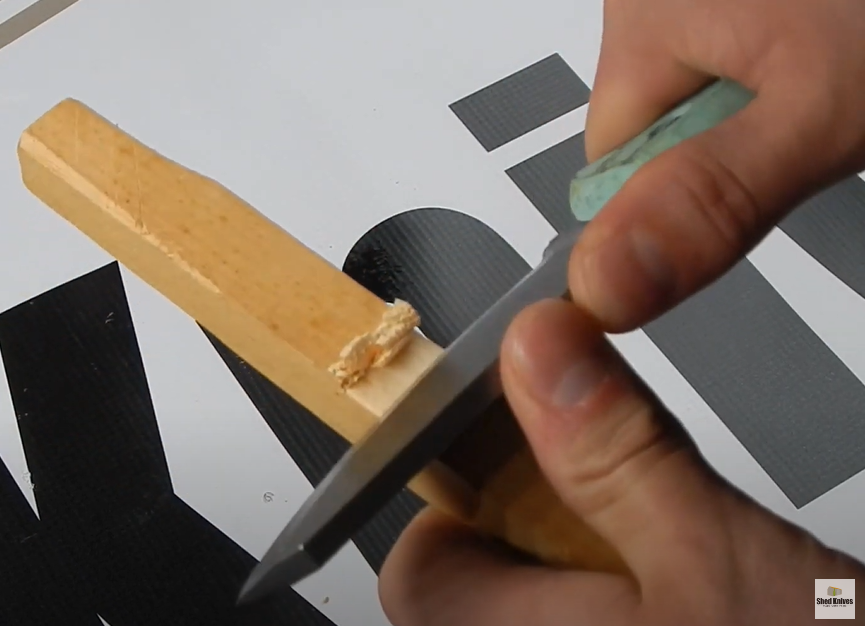 How To Carve A Notch/Make A Tent Stake | THE SHED KNIVES BLOG #29
Welcome back to The S.K. Blog for edition #29. If you're new here, welcome! When it comes to outdoor adventures, having the right tools and skills can make all the difference. One essential skill every outdoor enthusiast should master is carving a notch & making a tent stake. With a reliable fixed blade knife and a few simple steps, you can create a functional tent stake that will secure your shelter in various terrains. In this article, we will guide you through the step-by-step process of carving a notch and making a tent stake. So, let's dive in.
Knife featured in this blog: 2023 Shed Knives Sheepsfoot in Tiffany Blue G-10
Step 1: Choose the Right Knife
To begin, it's crucial to select a reliable fixed blade knife. Look for a knife with a tough and sharp blade, preferably with a full tang construction for added strength. Make sure the knife is suited for carving tasks and features a comfortable handle for a secure grip. Some comfortable handles can include G-10, Micarta, and Wood. A high-quality knife will make the carving process smoother and safer.
Step 2: Find a Suitable Branch
Next, scout your surroundings for a suitable branch to use as a tent stake. Look for a straight and sturdy branch that is approximately one inch in diameter. The length of the branch will depend on the depth you want to anchor your tent. Remember to choose a branch that is strong enough to withstand the pressure exerted by the tent. Also, the softer the ground, the deeper you'll want your tent stake so be sure to keep that in mind.
Step 3: Measure and Mark
Once you've found the right branch, use a measuring tape or your tent's guidelines to determine the desired length of your tent stake. Mark the spot where you will carve the notch and make the stake. This will help you achieve the right size and shape and keep you on track.
Step 4: Carve the Notch
Watch the Shed Knives YouTube video on how to carve a notch here:
https://youtu.be/sSzMBKlnlm4
Now it's time to carve the notch. Hold the knife firmly and position it at the marked spot on the branch. With controlled and precise movements, cut a shallow groove into the branch, perpendicular to its length. This groove will serve as the notch where the tent rope or cord will rest.
Continue carving the notch by making two angled cuts that meet at the bottom of the groove. This will create a V-shaped notch that securely holds the tent rope in place. Take your time and make small, controlled cuts to ensure accuracy and avoid any accidental slips.
Step 5: Shape the Tent Stake
With the notch complete, focus on shaping the tent stake. Start at the opposite end of the branch and use the knife to shave off the outer bark and any rough edges. Gradually work your way down, shaping the stake into a smooth, pointed tip. Remember to maintain a firm grip on the knife and use controlled movements to avoid accidents.
Step 6: Test and Refine
After shaping the tent stake, it's essential to test its functionality. Set up your tent and insert the stake into the ground, ensuring it is secure and stable. If needed, make any necessary adjustments to the notch or stake to ensure a snug fit and maximum stability. Practice makes perfect, so take the opportunity to refine your technique and improve your carving skills.
Conclusion
By knowing how to carve a notch to make a tent stake, you'll be able to adjust accordingly to situations where you might not have them. With the right tools, techniques, and a little practice, you'll be well-prepared to set up camp and enjoy the your next outing. So, grab your fixed blade, head out into the field, and use your skills to create functional and reliable tent stakes for your shelter.
________________________________________________________________
About The Author:
Jack Billings is the 19 year old CEO and Founder of Shed Knives, a rising manufacturer of high-quality fixed blade bushcraft knives. With over 5 years of experience as a knife maker, he has developed a reputation for crafting durable, reliable knives that are designed for outdoor enthusiasts and bushcrafters alike. Jack started making knives at the age of 13 and has been refining his craft ever since.
In addition to his expertise in knife making, Jack has a High School Degree from POLYTECH High School, where he studied Automotive Technology and obtained his ASE Certification. He is also a content creator for Shed Knives and has reached the eyes of over 600,000 people across the world through his work.
When he's not working on knives, Jack enjoys exploring the outdoors and has a passion for bushcraft. He also has a passion for the automotive world and enjoys learning about new technologies and advancements. Additionally, he has a great interest in language and is studying Spanish, German, and Arabic.
Jack's personal mission is to constantly improve himself, his products, and his processes in order to stay ahead of the rapidly changing interests of the knife industry and to surpass the competition. He takes great pride in American manufacturing and is committed to contributing to the growth of the world knife industry through his work.
S.K. Social Media Links:
➤ Instagram: https://www.instagram.com/shed.knives/
➤ Facebook: https://www.facebook.com/official.shed.knives/
➤ Twitter: https://twitter.com/shed_knives
➤ Pinterest: https://www.pinterest.com/shedknives/
➤ YouTube: https://www.youtube.com/@shedknives
➤ Rumble: https://rumble.com/c/c-2051230
➤ LinkedIn: https://www.linkedin.com/company/shed-knives/
➤ Telegram: https://t.me/shedknives
➤ The S.K. Blog: https://shedknives.com/blogs/theskblog
➤ Threads: https://threads.net/@shed.knives